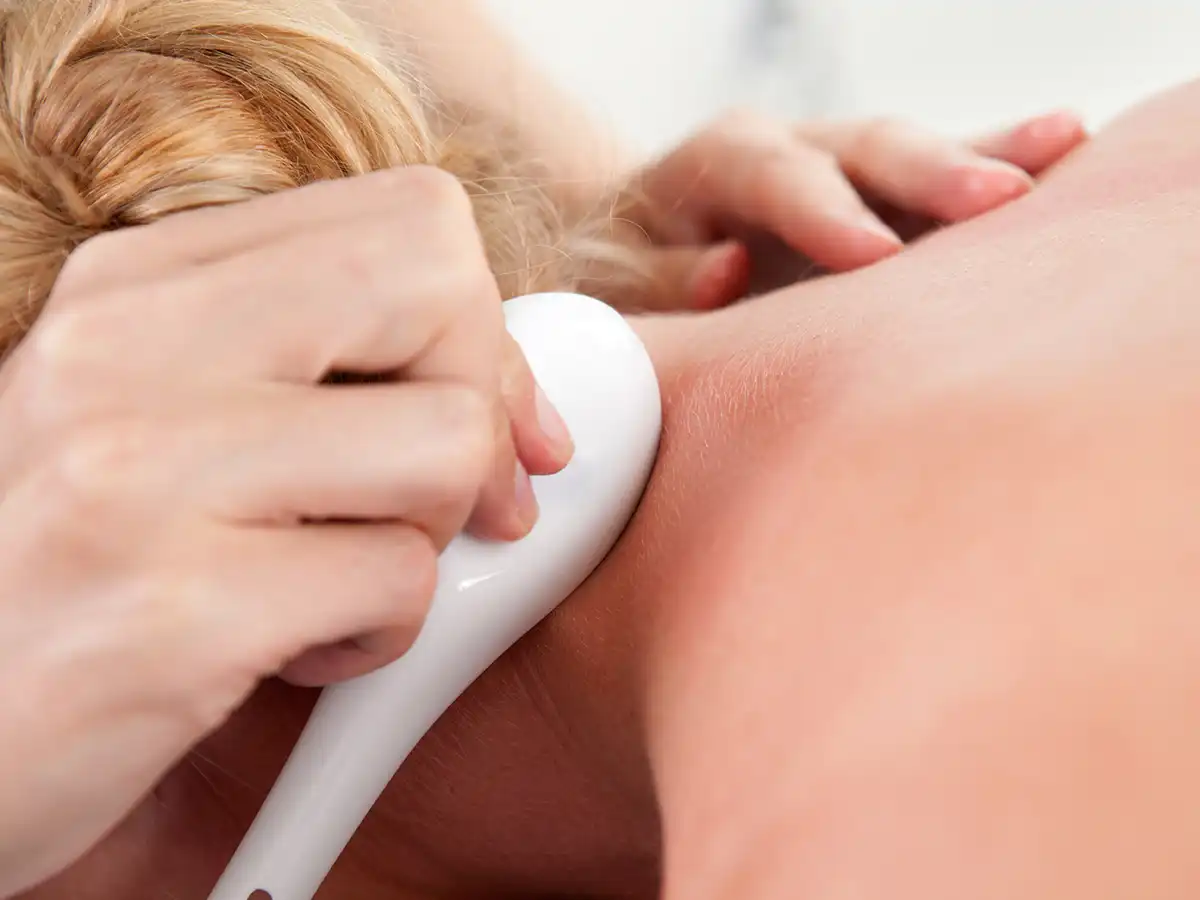 Gua Sha is a traditional Chinese medicine technique that breaks up scar tissue beneath the skin to relieve discomfort and improve blood flow. In Chinese, "gua" translates to "to rub," while "sha" describes the buildup of blood in the surface tissues that can cause pain and stiffness. This method is effective for a wide variety of conditions, including chronic pain, recent injuries, muscle spasms, tendinitis, carpal tunnel, and plantar fasciitis, among others.
Gua sha is similar to a very intense massage, and the strokes of the massage tool might leave red markings. The marks may look like bruises to someone who has never encountered the technique before, but they are entirely different. As the device is not sharp, no actual skin damage has occurred. Gua sha massage is a risk-free all-natural treatment option.
At Big Creek Massotherapy, our skilled therapists can provide gua sha on its own or in addition to other treatments, such as a regular massage.
How Gua Sha Works
Tools and techniques used in gua sha therapy are easy to use and have positive results. The area or groups of muscles being treated are covered with oil or lotion. Scar tissue is gently broken up with a tool to promote healing, mobility, and blood circulation. Gentle yet sufficient pressure is used to "scrape" the region.
The back, neck, and shoulders are common areas for a gua sha treatment. Even though this isn't always the case, red marks usually start to show up, which would mean "sha" is there. The massage area may feel slightly warmer and have a bruised appearance after the treatment, but you should experience more range of motion and less tension in the following days.
From a Western medical perspective, the effects are likely the result of fascial manipulation. The fascia is a connective tissue layer that "tightens" due to overuse, inactivity, or swelling.
Benefits of Gua Sha
Here are some of the advantages that you can experience from gua sha therapy:
Potentially Alleviates Inflammation and Swelling
The gliding motion of the gua sha tool has a similar effect on the soft tissues as other massage techniques, improving circulation in small blood vessels. The physical signs of inflammation, like swelling and puffiness, may be alleviated by the boost in blood flow.
Helps With Pain Relief, Especially for Stiff Joints
A gua sha massage may help alleviate the discomfort and stiffness you're feeling as a result of poor posture. Discomfort and stiffness are relieved almost immediately, and the range of motion in the limbs' joints and ligaments is improved.
Supports Muscle Healing and Recovery
Because of its effect on blood flow, gua sha may also be useful for dispersing the lactic acid that builds up during exercise.
Schedule Your Gua Sha Session at Big Creek Massotherapy Today
Reduce tension, discomfort, and inflammation with gua sha massage therapy. The treatment works well on its own and is even more successful when combined with other techniques.
We encourage you to get in touch with us if you have questions about the health benefits of gua sha or would like to set up a session. Call us at (440) 799-8988 today.