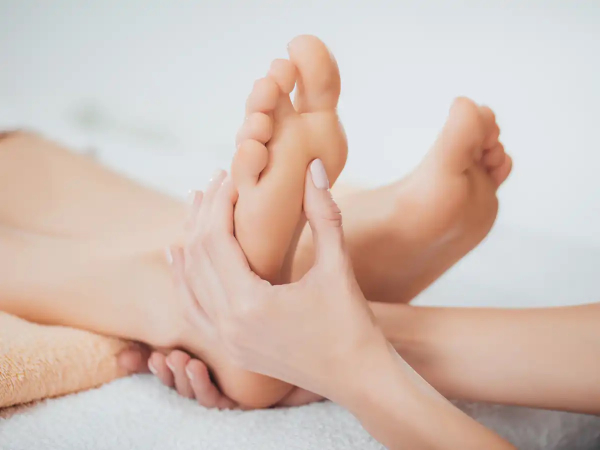 Reflexology massage therapy focuses on the hands and feet, so you can enjoy the benefits of traditional techniques without taking off your clothes or getting a full-body rubdown. If you're suffering from stress, pains, or ailments, this method is ideal for you.
What Is Reflexology Massage Therapy?
Reflexology is a type of therapy that stems from the ancient Chinese belief in qi (pronounced chee) or vital energy. According to the practice, qi is the body's innate intelligence system that creates good health. Imbalances like emotional episodes, overexertion, and particular medical conditions block it.
Professional reflexology therapists then use gentle pressure on particular points of the feet — and hands and feet, if necessary — to restore your qi and make you feel better. Like acupuncture or acupressure, reflexology connects different pressure points on the body to extremities.
However, note that reflexologists do not diagnose or treat illnesses. Instead, you can undergo sessions alongside traditional care to address specific symptoms.
Benefits of Reflexology
Reflexology offers various health and wellness benefits, like the ones listed below. The advantages range from feeling less stressed to managing certain conditions.
Boost Relaxation
After a physically, emotionally, or mentally exhausting week, reflexology can help you relax. One session can open neural pathways that induce calmness throughout your body. This feature alleviates stress, anxiety, and other depressive symptoms.
Relieve Aches and Pains
If you suffer from headaches, neck pain, or back pain, a skilled specialist can address these symptoms and improve the quality of your life. Additionally, therapy affects the connective tissues that cause most pains, potentially preventing future episodes.
Strengthen the Immune System
If you regularly experience colds, tummy troubles, and extreme lethargy, you might have a weakened immune system. Reflexology can come in handy for such cases because the circulation it brings increases lymphatic flow, moving metabolic waste away from the body.
Release Endorphins
Connective tissue massages like reflexology release endorphins — feel-good chemicals that trigger positive feelings in the body. If you need some warm, fuzzy feelings to battle negative emotions, reflexology can do wonders for you.

Improve Sleep Quality

Reflexology massage therapy can help you release your family, health, work, and financial concerns. Once in a while, you need to unwind to improve sleep quality. You will find many anecdotes online about the power of this alternative medicine practice on poor resting habits.

Big Creek Massotherapy has been serving the health and wellness needs of the Cleveland community since 2016 through high-quality massages. If you're looking for a technique that boosts relaxation, relieves pains, strengthens the immune system, releases endorphins, and improves sleep quality, we highly recommend reflexology massage therapy.

At Big Creek Massotherapy, we boast a well-trained and licensed team of professional therapists. We're here to help you relieve stress, injury, and illness symptoms. Call (440) 799-8988 to book a reflexology session.